FAQ's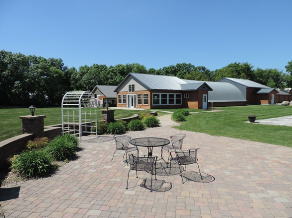 Frequently Asked Questions


What is included in the Wedding Venue Package?

The package includes rental of the banquet facility, smaller banquet facility aka bridal suite, Ute, wedding platform overlooking Long Lake, 4 - RV sites and acers of beautiful sites for photos.

A separate price would be added for any alcohol and rental of additional items.

What is included in the rental of the facilities?

The banquet facility - includes 180 chairs, 24 round 6 x 5 tables that seat 8 people and 20 rectangle tables that are 6 feet long.

Smaller banquet facility aka Bridal suite - seats 30 - 35 people - two bathroom/showers - perfect place for the bridal party to get ready or for a groom's dinner.

Ute aka bunk house - described as a cute round cabin. Fireplace, AC, no plumbing, 2 - double beds.

RV sites - includes water and electric hookup.

Will I need to bring my own bed linen and bath towels?

Yes, all guests that spend the night can bring their own sheets, blankets and towels.

Why a quote?

A quote is needed to make sure that all prices are in writing and clear to all parties.

Only written quotes or emails are valid. Also, the policy sheets are clear about other requirements.

How about food and alcohol choices?

All food must be brought in from a Licensed Caterer. Long Lake Lodge will assume no liability for illness, injury or damage caused by caterer.

All alcohol must be served through Long Lake Lodge. We can discuss your options for keg beer, tickets, social hour times, etc.

Prices do not include gratuity or Minnesota sales tax. Prices are subject to change.

How about payment options?

A 25% non - refundable deposit is required to hold a date. Advance payments may be made any time before your event. A damage deposit of $500 is required, that will be returned following inspection of

the facility. Final payment can be made the day of check in, if there are no variables in the amount of the invoice.

Otherwise, final payment is due at 10:00 am before check out.

Are any other items provided?

You are responsible for decorations and table covers. Chairs for outdoor weddings must be outsourced, as we cannot allow the banquet chairs on the lawn. You will need to acquire your own photographer, officiant and DJ's sound system needs.

Bartender is included at no charge for events over 100 people.